Weddings/Partnership & Commitments/Vow Renewals
We had wonderful feedback from our wedding ceremony, people saying it was the best ceremony they'd ever been to as it was so personal to us as a couple. Sian and Oliver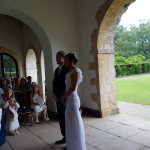 It is my privilege to offer you the ceremony of your dreams to mark this major life choice of commitment to another.  It will be my honour to work with you to create a wedding or partnership ceremony which has real meaning for the two of you in marking your union.  This includes your choice of venue; both indoors and outside, the words and music used, the type of rituals (see below) and whether it is for a large number of family and friends or just for the two of you in private.
As a couple you may have similar beliefs and agree on the kind of ceremony and format of words, or it may be that you and your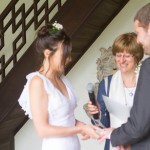 partner are from different faith traditions and you are wondering how you can possibly bring both of your beliefs together in a way that works for you and your families?  Whether you consider yourselves non-religious or religious, spiritual or atheist or anywhere in between, I will use the terminology you feel most comfortable with.
It is your special day which marks your commitment to each other and I will put as much love, thought and effort into making it your own unique wedding/blessing as you wish. Personalised vows will give your wedding real meaning and significance.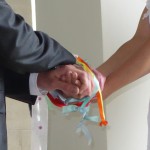 Some examples of ritual which you may choose to include, or not – the choice is yours:
blessing and exchange of rings – to signify the everlasting nature of love which is what joins us to another
hand-fasting – an ancient custom found in many different faith traditions where the hands are temporarily joined together with a stole or ribbons or ivy to signify the closeness and coming together in body, mind and spirit of the couple
blessing tree or cloth – guests write their blessing for you as a couple either on the tablecloth or on a card to be hung on a blessing tree
throwing of rice or rose petals or more recently, blowing bubbles, as the couple walks through their guests
Thank you so much for being the minister on our wedding day. The service was perfect; meaningful yet light-hearted. We both appreciated the hard work you put into the day, helping us to have the type of ceremony that was important to us.         Sian and Oliver
Currently only Interfaith Ministers in Scotland can perform the legal side to marriage, due to different laws operating in England and Wales. If you choose myself as your wedding or partnership blessing celebrant then, if your intention is to become legally married as well, you will need to arrange this with your local Registrar.
Love consists in desiring to give what is our own to another and feeling their delight as our own.
Emanuel Swedenborg