Thank you for such a wonderful naming service for our son, the whole process was wonderful, from the first contact to the day itself, every moment was professional and very personal. You were very approachable and have left us with memories to treasure. Thanks again. Mr and Mrs German

"Having struggled to come up with a traditional church service that would be meaningful and relevant to our boys given their older ages of 4 and 6, we found Helen by chance and within minutes of speaking to her for the first of what would be many helpful conversations, we knew we had found the right path to our sons' Christening. With Helen's guidance and support, we soon found ourselves piecing together the perfect ceremony that would ensure our boys understood what was being asked of them, and what was being gifted to them. The ceremony was indeed perfect – described by many of our friends and family as beautiful. Two nervous parents and two excited children almost instantly put at ease by Helen's warm, gentle and caring approach. A truly personalised ceremony that reflected us as a family and a community, all we wished for for our children, and communicated to them in a language they could understand."

Naoimh & Kyle
A new life in your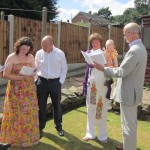 family- wow what an amazing blessing. I am filled with awe, wonder and love whenever I hold a newborn baby. It is the most natural instinct in us to want to give thanks for this gift of a new life and to ask for a blessing on our child. I would love to be able to create for you and your family a naming and blessing ceremony for this special child which will express your gratitude and heartfelt wishes for them as they grow. I work closely with you so between us, we create the words and ceremony that feel right for your family.

I want to thank you again for today's amazing ceremony. Everything was perfect. Our guests were all talking afterwards about how wonderful and unusual it was.   Dawn C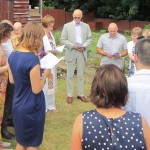 As a parent, bringing up our children is one of the most fulfilling and also one of the most challenging things we are called on to do in life, so to know that you have a network of loving support can be very helpful.  I am always happy to involve the wider family such as grandparents or special friends in the ceremony. I also ensure the ceremony is as child friendly as possible if there are to be young children present.
Below is an example of wording I have used when blessing a young child:
With joy in our hearts we welcome you …..  into our world and into this family. We honour your beauty and make way for your gifts.
Hold feet – May everywhere you go in life be blessed with your presence
Hold hand – May everything you do in life be blessed with your loving service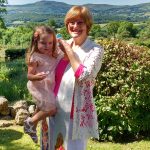 Touch over eyes – May these eyes look on the world and see only the good and truth of what really is
Touch over heart – May you grow up remembering how loved you are
The choice o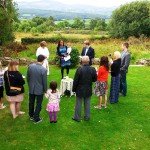 f venue is yours. It can be in your own home or garden, or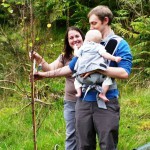 in hired premises. I have found it to be particularly special when the ceremony is held outdoors. On two occasions this year the family have chosen to include a tree planting as part of the blessing ceremony.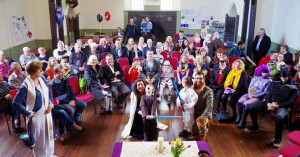 Two brothers keen on Star Wars had a baptism ceremony bringing in the idea of them being a 'force for good in the world' – complete with light sabres! I believe it is important that the ceremony has meaning for the individuals involved and this meant something to the boys!
After the ceremony you receive a certificate of naming, along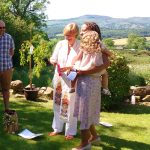 with any other memento created as part of the ceremony. Families have chosen to have their guests write their wishes for their child in a special book, on an embroidered tablecloth and as fingerprints creating the leaves of a tree on an original painting. You can be as imaginative as you wish in creating a lasting record for your child.
A massive thank you for Sunday. Everyone had a lovely time and we were so pleased with the ceremony. It was exactly as we wanted! : )

 Mo, Eric and Leo