Sacred Circle Dancing Rhosesmor

Circle Dance Workshop  "The Rhythm of Life"
Saturday 21st March 10 – 4 pm  Rhosesmor Village Hall
Come and celebrate the Spring Equinox with circle dance and some sharing.
More details here:   Rhythm of Life flier
Regular monthly dance dates 2020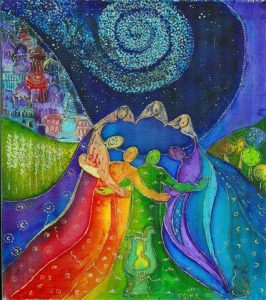 5th Jan.       2rd Feb.
1st March    5th April
3rd May      7th June
5th July       2nd August
6th Sept.     4th Oct.
1st  Nov.      6th Dec.
Come and join us – dancing for a healthy body, mind, emotions and spirit! The dances are usually fairly simple with steps taught and we hold hands so you feel supported and connected to the whole group. The music is very varied and the dances too. Come and try it  – you will feel good afterwards!
Rhosesmor Village Hall CH7 6WF
  2 – 4 pm  1st Sunday of each month
        £7 session
 Dancing for Peace     8 – 10th May
Purley Chase Centre, Atherstone, Warwickshire
On the 75th anniversary of the end of the Second World War in Europe, we will join together in a circle and dance for Peace. Using a wide range of music and fairly simple steps we will dance for Peace in our World and of course for Peace in our own hearts and minds.  "World peace begins with inner peace" Dalai Lama. Our hope is that by the end of the weekend we will feel balanced, whole, loved and at peace.
We aim to create a friendly and sacred space where you will feel nurtured in body, mind and spirit. We will learn the dances together, welcoming both those who are new to circle dancing and experienced dancers. The dance is like a mantra, stilling the mind and calming the body, bringing our whole being into Oneness.
There will be a period of free time on Saturday afternoon to enjoy the grounds, walk in the surrounding countryside, chat with each other or rest. Saturday evening there is a choice of activities – singing, meditative craft or just relaxing. On the Sunday morning we bring the dances we have learnt together with short readings/prayers to create a sacred act of universal worship.
Helen and Rita look forward to sharing with you in our journey to wholeness.
Leader info:
Helen is an experienced spiritual retreat facilitator who loves to create safe sacred spaces where people can experience the love, joy and peace within. Circle dancing is one of her key spiritual practices and she delights in sharing this love of the dance with others in her calm and centred way. She is a One Spirit Interfaith minister, spiritual counsellor and healer.
Rita is an experienced Sacred Circle Dance teacher and has an extensive repertoire of dances. She uses her musical gifts and skills as a teacher to encourage others to experience the love and power of the Divine. She also enjoys facilitating workshops and spiritual growth groups bringing her love of people and life experience into her work. She has channelled Reiki healing for twenty years.