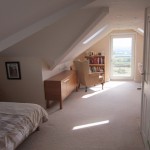 The retreat accommodation is a modern en-suite room on our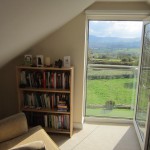 second floor, with beautiful far-reaching and restful views across to the Clwydian mountain range.  On a  clear day you can see the Snowdonia range too.The room is large, with a sloping ceiling, allowing space for a bedroom area (double), and a sitting area with an easy chair, well stocked library of spiritual books, a desk for writing and a small food preparation area with fridge for you to prepare your breakfast, lunch etc.The en-suite has a toilet, shower, small washbasin & heated towel rail.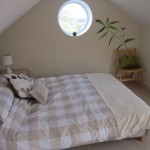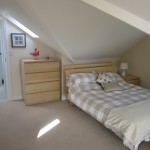 The room was large, light and airy – like a little studio flat with its sleeping, sitting,and eating areas and an en-suite. Everything about the conversion had been done to the highest spec, making me feel I was staying in a luxury apartment! The bookcase with its array of spiritual books caught my eye and I had soon found an interesting book to read during my stay. The door at the end of the room opened onto a view of the large garden with its wildflower meadow beyond, and then on to the stunning view of the Clwydian mountain range – the perfect place to sit and contemplate. Lesley
Breakfast. For your convenience I provide you with healthy food for you to make your own breakfast whenever you wish.  This includes fresh orange juice, muesli, porridge oats & cereals, fresh fruit, milk (or soya milk) home-baked bread, butter and preserves.
Lunch. If you wish you can purchase a lunch pack at a small additional charge (free-range eggs laid by our hens, cheese, salad, bread etc.)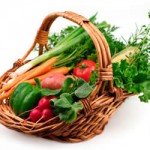 Dinner is provided on request (vegetarian or special diets catered for) and all meals use as much of our home grown produce and free range eggs as possible. You are most welcome to join my husband and I for this meal or you may prefer to take it in your room. The choice is yours and you may vary this from day to day depending upon how you are feeling. It is generally a very quiet house with just my husband and I living here, although you should be warned that the quiet countryside does highlight the sound of the birds singing, the cockerel crowing, sheep and lambs baaing etc.!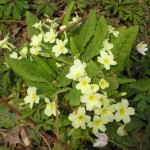 Along with your retreat room you have the use of our garden with its different areas for seating and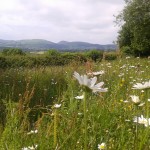 taking in the views. In the summer you may sit down in our wild flower meadow, enjoying the colours, scents and sounds.
Out of our gates you are straight onto the hillside, suitable for walking (with walking shoes/boots). If you find nature helps you to relax and feel in connection with creation then we are in the ideal place with plenty of wildlife, amazing views and walks. If working with your hands, planting and helping flowers and vegetables to grow is something you would like to do then do mention this and I will hopefully be able to offer you something enriching to do in our vegetable plot or greenhouse.